Practice Sessions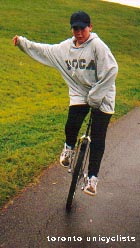 For the winter we practice every Thursday from 7:00pm to 10:00pm in a nice double gym at St. Mary school, 20 Portugal Square, Bathurst and King, one block North of King off the West side of Bathurst. Parking is available in the school parking lot or on the street. The gym entrance is on the west side of the school through the playground.
To get to the gym from the 401: Take Don Valley south to the Gardiner, go on the Gardner westbound, Exit at Spadina. The exit will fork but stay right and take the Lakeshore Blvd East, Take Bathurst North, there will be a church on your right hand side, turn right at Portugal Square, The School is on the North side of the street.
Another option is to take Bathurst straight down from the 401.
Here are the dates we will not be at the gym:
Dec 26th 2002 - Christmas/Boxing Day
Jan 2nd 2003 - New Year's Holiday
Mar 6th 2003 - March break
Mar 13th 2003 - March Break
Usually about 15 of us come out to practice. There are the "skills/tricks" people and there are the "basketball"ers. Or simply try a bit of both. <!p><!During the summer we practice every Thursday from 7:00pm to 9:00pm outside Cordella Public School, 175 Cordella Avenue. One street north on the intersection of Weston Road and Black Creek Drive. > <!p><!From 401: Take Black Creek Drive south to Weston Road, make a right onto Weston than the first left onto Cordella and go to the very end of the street. Call Darren Bedford at 416-767-4742 for details.>
Rules for the Gym
We'd hate to get kicked out of the gym for not following the rules, so here they are:
Your unicycle must have a non-marking tire only: No knobby tires, no Monty tires
Use rubber ended pedals only. No metal pedals nor any type of metal on your unicycle that could touch the ground.
Do not track dirt into the gym. Muddy tires and shoes must be cleaned up before you enter.
Apart from the gym, do not go into the school: We've rented the gym and change rooms only. Do not go into the hallways or any place else within the school buildings.
With the exception of water, no food nor drink is allowed in the gym.
Clean up after yourself and keep the place clean
With these simple rules, we should have no trouble with the janitor, principal and the school board. Getting kicked out of the gym mid-season would be disasterous for the club.
Keiar Renaud is our tester and is willing to assist anyone who is interested in improving their skills.
Possible Places for Weekend Outings
Do you have a favorite spot to ride that you think the club would like? Please tell us and we'll schedule it in. We need to have a backup plan if the weather's bad.
Financial District: We start at Union Station, which is great for attracting attention. Then we ride through the parking garage of the large hotel across the street to the TD Centre. There they have some cows made of metal that are nice. We go to BMO's First Canadian Place and noodle in there for a while. Then it's off to Metro Square, to see the water fountain. Next is the Grange Park, right behind the Art Gallery of Ontario. Next is Bell Trinity Square, where many fashion shots are taken. This is right beside the Eaton's Centre. It's all paved.
Toronto Island/Centre Island: Paved. Map from Cyclepath. Ferry Info. Description
Sewage Treatment Plant: Start at the Don Valley Brick Works, do the middle track to the sewage treatment plant. Do not ride this trail if it has recently rained
Balfour Park: Start at Balfour Park, south of Mount Pleasant Cemetary, riding close to the river. Pass the Beaumont Parkette, Chorley Park and end at the Don Mills Brickworks
Centennial Park: large park by the airport. Map
Centennial College: Progress Ave Campus. There's the main complex, which has nice areas to ride around. Lots of stairs and rampts to go up and down. There's an outdoor stage that's kind of neat. You can ride up to the cafeteria windows and gawk at people. At the back of the college there are two very steep but paved downhills leading to the Highland Creek Ravine. One will lead you to a mostly unrideable (for me) area of rocks and sand. You can go across the creek. I saw a fox. The other path is dirt and rideable, until you come to the creek, which at that area is about 15 feet wide. You have to rock-hop across, sometimes using your Uni as a walking stick. The path then leads to a dead end, but it's the journey that counts. Parking is free after 5:00pm and on week-ends
Weekend Outings Completed

High Park




:
Highlights: Mixed MUni/Paved. This urban park offers greenery within the heart of Toronto. There are many off-road trails to try, as well as some large hills to go down. As well there are many paved trails for those who just like to take in some greenery. Where: Bloor Street west of Keele. Here's a map from Cyclepath
Leslie Street Spit/Tommy Thompson Park


:
Highlights: Mixed paved roads and rough trails dug up by bulldozers and trucks. There's a small trail up to a light house. This is an urban renewal area/garbage dump. Run by the Toronto Regional Conservation Authority, this area is a sanctuary for birds and wildlife. Where: Follow Leslie Street until it ends.
Central Tech/University of Toronto




:
Highlights: Urban Ride. Lots of trials stuff to jump on and off. Nice pavement and narrow cement planter boxes to ride on. Watch out for the UofT security. Where: 725 Bathurst. St., on the north east corner of Bathurst & Harbord. Paved. Map
Mount Pleasant Cemetary

:
Highlights: Nice scenery. Large and ornate tombstones from all nationalities. Lots to ride and see. Nice stone houses that have dead people. There's a crematorium with stairs that you can ride down. Try not to grind, daface or fall on anything. Where: Park at Baview just north of the 404.
Toronto City Hall and area around Dundas/Yonge Street



:
Highlights: The scenery. This is the official centre of Toronto, and the place where many public events take place. You'll see the large pond/skating rink, and probably a couple of Royal Canadian Mounted Police on horses here. A very public place to go to be seen. Maybe you'll get on tv here... Where: Queen Street west of Yonge Street
Harbourfront




: Highlights: Public Ride. This ride by the shores of Lake Ontario will take you onto the docks. You'll be able to see many of the large ships that dock in Toronto. There's a garden that is dedicated to music and a long row of resteraunts. Lots of things to jump on and off. Where: Queen's Quay E and Cooper Street. Park beside the LCBO (Liquor Control Board of Ontario) in that parking lot. Ride west to Queen's Quay "Done Oct '00
L'Amoreaux Park



: Oct '00
Edwards Gardens: map of bike path Done Oct '00
Sunnybrook Park




: Leslie Street and Eglington Avenue. It has nice paved bike pathways, but also offroad trails and small downhills for unibogganing. Parks and Rec Link, Historical Description of Park
King Street




: Start the cathedral at Adelade and Jarvis, go south to Kensington Market through a walkway. On King go West to Roy Thomson Hall, then to Metro Square. Ride on cement benches, water fountains, steel structures, ledges at Roy Thompson Hall, through the drops of the Financial District, and finally through some shallow waterfalls in Metro Square. Meet at the catherdral. Free on-street parking is available north of Queen Street on some side streets.
Humber College

: 205 Humber College Blvd. Toronto, Ontario M9W 5L7
The North Campus is located southwest of the intersection of Finch Avenue & Highway 27. From Highway 401, take the 409/427 connection and drive north on Highway 427. Take the Finch Avenue exit and drive east. Turn right onto Humber College Boulevard. Take Entrance D onto the college property and park at Lot 9. It's near the flagpole (outside of Building D) and close to the Visitor Information Centre. Map
Bridle Path



: Park at Edwards Gardens (Leslie/Lawrence), ride west to Bridle Path, Turn right (North) and ride to the end. There will be a short downhill that will take you to a stream where you can hop around a lot. Following the stream will take you to a nice bike path. Double back and continue south on the Bridle Path. Turn left (east) onto Salonica Road until it ends. There will be a path and a downhill to the stables of Sunnybrook Park. Go up the hill and you'll see the path back to Edwards Gardens.
Bridle Path North



: See above to get to Bridle Path. Turn north until you see a large clearing and go down the hill. There are a lot of off-road trails and a couple of stream crossings. There's one concrete dam there that has 3 small steps (2" each) that you can ride down, all under water. It's nice to ride on. There's also a bike path. Double back and return to the Bridle Path ride.
East Don Parkland area



: This ride starts at the north-west corner of Sheppard Avenue and Leslie Street and goes north to Steeles, following a creek. The terrain starts with a lightly used bike path with some nice off-road sections that follow the creek. There are a couple of dead ends and you may be forced to cross the river using an uncertain largish fallen tree. The train ends at Leslie just south of Steeles. There's parking there for 4 cars.
We'll meet at the park's parking lot just west of Leslie Street off Sheppard. From the 401 get off on Leslie and go north to Sheppard, make a left (west) on Sheppard and immediately you'll see a road to your right (north). Park there.
Weekend Outings Toronto Weather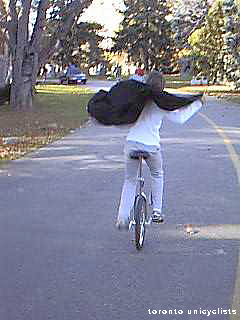 High Park, Sunday Nov 11, 2001 at 12:00 noon
We're starting at the Grenadier Resteraunt, within the park. This ride should be mixed with both paved and MUni stuff. info
Edwards Gardens, Sunday October 14, 2001 at 12:00 noon
We're starting at Edwards Gardens and traveling south through Sunnybrook Park, past Eglington and down to E.T. Seton Park. This ride should be easy and all beginners and kids are welcome. Meet at Edwards Gardens at Leslie/Lawrence in front of the Greenhouse. How to get there
Highland Creek, Monday October 8, 2001 at 12:00 noon
This ride will meander beside the Highland Creek. We'll go up to and through Morningside Park, continue through to Colonel Danforth Park, and end at the Lower Highland Creek Park. It's a paved bike trail, so should be ok for beginner/intermediates. There will probably be harder stuff for experienced riders, but this ride is just for pure fun. I've not been there, but it sure looks promising on the map!
We'll meet on the north part of Livingston Road (above Kingston Road), just east of Eglington and Kingston Road. Livingston Road is just west of the Guild Inn. Go on the 401 East to Markham Road South. Pass Eglington. At Kingston Road turn left (east). Go over the railway tracks and take the first left at Celeste Dr. Make a Left on Greenvale, then right on Livingston Road. Park there. Check out the detailed and general map.
Humber College, Sunday April 15, 2001 at 2:00pm
There's supposed to be an Arboretum here, and nice paved areas, but we've not done this place yet, so expect anything.
The North Campus is located southwest of the intersection of Finch Avenue & Highway 27. From Highway 401, take the 409/427 connection and drive north on Highway 427. Take the Finch Avenue exit and drive east. Turn right onto Humber College Boulevard. Take Entrance D onto the college property and park at Lot 9. It's near the flagpole (outside of Building D) and close to the Visitor Information Centre. Map
Sunnybrook Park, Sunday April 8, 2001 at 2:00pm
A little bike trail, a little paved open area, a little offroad, a little downhill.
How to Get There: Leslie Street and Eglington Avenue. Meet by the riding stable.
North York Civic Centre, Sunday January 28, 2001 at 2:00pm
We're checking out the skating rink, the musical amphitheatre, lots of ramps and a theatre nearby. This is Mel Lastman country.
How to Get There: Take 401 to Yonge Street. Go north, past Sheppard Avenue. on the east side is North York Civic Centre. Go one street up, turn east (right) and park on or near Empress Street. Meet in front of the library. There's a subway stop right at the Civic Centre. map
Beaches East, Sunday January 14, 2001 at 2:00pm
This weekend's ride at the Beaches East will be right near the waterfront. I doubt there will be anyone sunbathing, so don't expect any bikinis. The boardwalk should be a nice easy ride with lots of scenery.
How to Get There: Lakeshore Boulevard East just west of Woodbine Avenue. We'll meet at the Boardwalk Cafe, 1681 Lake Shore Bl E, Toronto, ON M4L 3W6, (416)694-8844 map
High Park, Toronto, Sunday December 3, 2000 at 2:00pm
A very fine ride in full sunshine. Carl was up to his MUni self in fine form. We must do this ride again in the summer, because the park is really beautiful.
Weston Santa Claus Parade, Sunday November 26, 2000 at 1:30pm
A good time was had by all in what was the most widely attended parade of the club's history. With 23 unicyclists we were out in force. Pete and a friendly clown rode bicycles. Special thanks to Susan and Kelley for carrying our banner, and David Cripps for doing the vests, which made us look quite dapper. And if you didn't make it, that's your loss. The kids were great and the spirit was high. This is what life's about. Merry Christmas.
Leslie Street Spit/Tommy Thompson Park, Sunday November 12, 2000 at 2:00pm
This ride was chilly but nice. It started on a nice paved road and degraded to rocks/mud in some areas. There were also relatively flat, hard-packed dirt areas. We did see lots of birds and birders. A lady from the Conservation Authority (or so she says, not wearing any Conservation Authority logos and her car was unmarked) was annoying us, but she stopped at the bridge, which was nice. Built of wood with metal expansion joints, it was nice to ride. The hill up from the bridge was a little steep. After the bridge the road became rocky, torn up by the metal tracks of bulldozers. It was a challenge to ride. The road led up to a large hill to the lighthouse. We stopped for a break at the top, where the photo was taken. We then circled around the lighthouse, and saw large flocks of birds doing low-level flights across the lake. Going back we took a side road which bypassed the bridge. The route was longer but quite nice. Run by the Toronto Regional Conservation Authority
How to get there: Go south on the Don Valley Parkway (404) and go on Gardner east. Continue to Leslie Street and turn right (south). Follow Leslie Street until the street ends. Park there and look for uni-friends. Map, Pics
Central Tech & University of Toronto, Sunday November 4, 2000 at 2:00pm
The Central Tech School has a nice track that you can practice your lane riding, sprinting and backwards riding, all while staying within the lines. There are various other neat places to go around the school. University of Toronto's inner sanctum is nearby and we can see all those old and interesting buildings. Meet at Central Tech's track. Central Tech is at Bathurst and Harbord, two blocks south or bathurst/Bloor. Parking is on Borden Street. Map, or source.
Mount Pleasant Cemetary, Sunday October 29, 2000
The Halloween themed ride was great, with 11 riders showing up at the cemetary. Hats off to those who rode in costume. Some of the tombs were amazing, with a mix of old and new, wealthy and not so. Of note was the Eaton Cript, and the Massey "house". We did not locate Glenn Gould's grave. We paid tribute to a number of people, inlcluding Nick's mother. Pics
Edwards Gardens, Sunday October 22, 2000
Johnathan came with his 36" Coker, a real mother of a large uni, and it goes pretty fast too. We attracted lots of attention by going down the large grass hill, traversing so we wouldn't pick up much speed. We did most of the trails. Johnathan tried the really steep killer hill, but he couldn't make it up. Off we went on the bike path, which was mostly paved, but there were some sections where the pavement was buckling or washed out. There was a sand trap or two that added to the variety of the ride. We stopped at Sunnybrook Park and headed back. The ride was about 2 hours long and lots of fun. There was one large uphill at the end of the ride.Pics
L'Amoreaux Park, Sunday October 15, 2000
It rained cats and dogs, but after an hour it let up and 6 of us had a good ride. Nice paved hills to climb. One large dirt downhill run was most challenging. Lots of paved area to practice. Then there was the off-road section, which was hard on the legs but lots of fun. Pics