Toronto has a very wide variety of accommodations to suit near any budget. Near the Convention site there will be university dormitories, small hotel rooms as well as RV/camping, all within 3 miles of Humber College, the main event location.
Dormitory
Humber College Web Site
Notes: As close as you can get to sleeping under a table in the performance area. Amenities include single rooms only, with air conditioning, fridge and phone. Outside there's a nice garden and campus to ride. Mingle with the local students. Check out Humber College's very cool Virtual Tour, which has shots of the residence lobby.
Address: 203 Humber College Blvd, Toronto, Ontario M9W 6V3 Fax (416) 674-4917
Reservations: Sign up on NUC 2001 Registration Form. We must receive your payment for the dorm before April 15, 2001 in order to book your room. With only 100 rooms, space is limited.
Rates: $20US/night includes full breakfast
Hotels
We have obtained discounted rates with some local hotels. Reservations and payment should be made directly with the individual hotels. There are many more hotels surrounding Toronto International Airport (within 3 miles).
Travelodge Toronto Airport - Rexdale

Web site


Notes:

One mile from Humber College. As the closest hotel and the least expensive room rate, this is the designated

"Official" Convention Hotel

, but most things will happen at Humber College. Please quote the Group Confirmation Reservation Number G00016-08 or they may screw up. Our preferred rate is only good for the nights of July 15 to July 20, and any booking before and after these dates may be charged at the regular room rate. You may also have trouble finding a room at the Travelodge for nights outside of these dates.10 minutes from Toronto International Airport, 20 minutes from Paramount <!a href="http://www.canadas-wonderland.com/">Canada's Wonderland, across the street from Woodbine Racetrack and <!a href="http://www.woodbinecentre.shops.ca/woodhome.htm" title="Woodbine Centre: A shopping mall near Humber College that has Sears, The Bay, Zellers, Cineplex and an amusement park.">Woodbine Centre Shopping Mall.


Address:

445 Rexdale Boulevard, Etobicoke, ON M9W 6K5. (1 mile from Humber College at Rexdale Blvd. & Hwy 27)


Reservations:

(800) 578-7878 Direct Line: (416) 740-9500 Fax: (416) 740-1256


Rates:

(ask for the "NUC" Rate): 1 queen bed - $74CAD/night (approx. $50US) 2 queen beds - $84CAD (approx. $56US)


Comfort Inn - Toronto Airport (CN100)

Web Site


Notes:

Two miles from Humber College. This is the second closest hotel to Humber College, but there is no discounted rate.


Address:

240 Belfield Road, Toronto, ON M9 (2 miles from Humber College at Belfield Road & Hwy 27)


Reservations:

1-800-228-5150 Direct Line: (416) 241-8513 Fax: (416) 249-4203


Rates:

Double Room $94CAD (approx. $62US)


Holiday Inn Toronto Airport -East

Web Site


Notes:

Three miles from Humber College.


Address:

600 Dixon Rd., Etobicoke, ON M9W 1J1 (3 miles from Humber College at Dixon Road & HWY 401)


Reservations:

1 (800) HOLIDAY Direct Line: (416) 240-7511 Fax (416) 240-7519


Rates:

(ask for Group Code "UNI01"): Double Room $99CAD (approx. $65US) plus $7CAD per day for parking
RV/Motor Homes/Camping
Indian Line Campground Web Site
Notes: Just 2 miles from Humber College. From their web site: "Indian Line is the closest campground to downtown Toronto. It's the perfect place for visitors to pitch their tents or park their RVs. The campground offers 225 sites, water and electrical hook-ups, dumping station, laundry and shower facilities and a swimming pool".
Address: 7625 Finch Ave. West, Brampton, ON L6T 3Y7. On Finch just west of Highway 427
Reservations: Please phone campground for reservations or more information: Until April 905-880-0227 or 1-800-838-9921, from May 1-800-304-9728.
Rates: The rates for 2001 have not been set yet, but the prices for last season (in Canadian Dollars) were: Serviced Site: $24CAD/night or $144CAD per week, or Unserviced site: $19CAD/night or $114CAD per week. Reservation Fee: $6CAD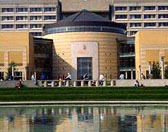 Convention Tip: The track events will be held at the Toronto Track and Field Centre at York University, 7 miles east of Humber College. York University has an eight-lane rubberized 400-metre Olympic regulation track, two 125-metre sprint runways and seating for 2,500 spectators. And with all that to offer they didn't even return our phone calls for accommodations. You'd think they were stuck up or something.