Official Video of the NUC 2001
The 2001 NUC VIDEO is ready for release! It shows clips of the entire convention all on one tape. To order your copy, please send your name, address, phone number and e-mail address along with payment to:
Darren Bedford
71 Jasper Avenue
Toronto Ontario Canada
M6N 2N2
United States orders are 25.00 U.S. shipped anywhere in the U.S. Canadian orders are 35.00 Canadian shipped anywhere in Canada. Puerto Rican orders are 30.00 U.S. shipped to Puerto Rico. European orders (PAL) are 50.00 Canadian shipped overseas.
THANK YOU to everyone who attended the 2001 NUC in Toronto. Get your copy now and cherish the memories !
Welcome to the NUC 2001
The Toronto Unicyclists are pleased to announce that the 2001 National Unicycle Convention will be held in Toronto, Ontario, Canada from July 16th to July 22th, 2001. With an expected 300 unicyclists to attend, this will be an excellent opportunity to meet the faces that have shaped the world of unicycling.
The main events will be held at the world-class facilities of Humber College, with track events being held at York University. Both campuses are located within Metropolitan Toronto. The off-road mountain unicycling events will be held at Kelso Conservation Area and Dagmar Resort.
We welcome all unicyclists and unicycle clubs in the U.S., Canada and around the world to join us for a unique celebration of our sport.
What to See in Toronto Toronto Weather
Toronto Links
Before you come please check out these links:
Getting to Toronto and Humber College
Toronto's Pearson International airport (YYZ) is the busiest in Canada, and has flights from all over the United States and the world. Here's a map from the airport to Humber College
Wherever and however you're coming, these more detailed driving instructions should make your travel trouble free.
Events Registration forms are available. Please register now before you come to Toronto.
Where's the Convention Site?
Toronto is located on the north shore of Lake Ontario in Canada, and is east of Detroit. With a population of 3.5 million multi-cultural residents, the city is the largest in Canada and has international-level convention facilities.
The 2001 National Unicycle Convention will be principally held at Humber College, a local community college, which is north-west of downtown Toronto. Only 3 miles from Toronto International Airport, the college is very convenient for international travellers. All track and field events will be held at the Toronto Track and Field Centre at York University, 7 miles east of Humber College. A separate location for a Mountain Unicycling circuit will be determined later.
Here's the bird's eye Humber College campus map, complete with parking lots. Here's the more detailed floor plan of the Humber College buildings. If we zoom in any more you'll be able to see the urinals in the guy's washroom. Of particular note are: Gymnasia (#2, right side), Student Residences (#40, left side off map). Also of note: Funeral Services (#28), Humber School for Writers and Comedy (#8). No, we have not mapped out the campus with a GPS. Please bring your compass.
Convention Facilities


The main site will be at Humber College, North Campus. Humber College has a 20,000 sq. ft. gymnasium, separate rooms for workshops, modern air-conditioned dormitory accomodation, and a wide variety of restaurant and eating options.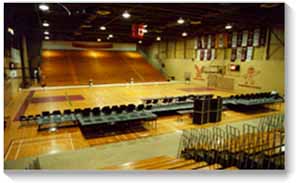 Three (3) full size playing surfaces of maple cushioned floor that's 200'x l00' large. Is this uni heaven or what? How many unicyclists do you think we can fit into there?
Check out Humber College's very cool Virtual Tour of the gym, weight room, arboretum, residence, food court. I don't believe we've booked the library, though, but I'll check. This campus is a really cool place to ride, so when you're not competing there'll be lots to see. Please note that we are still in negotiations for certain facilities of this campus.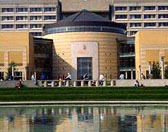 The track events will be held at the Toronto Track and Field Centre at York University, 7 miles east of Humber College. York University has an eight-lane rubberized 400-metre Olympic regulation track, two 125-metre sprint runways and seating for 2500 spectators.