<! width=30%>The Toronto Unicyclists is a not for profit association dedicated to learning, improving skills, promoting, making new friends and having fun on unicycles. Based in

Toronto, Ontario, Canada we have about 30 active members, who vary in skill from 20 year veterans to "just started last week". The club also participates in North American unicycle meets.

Meet Us, See Us, Join Us
Come out and see us on Thursday nights either at an indoor gym (winter) or at a school (summer, weather permitting). Then there's our weekend rides. All are welcome, kids included. And check out our MUni (Mountain Unicycling) page. But there's also our rider profiles, which are pretty cool.

Do you live in the Greater Metropolitan Toronto area and want to join? Or will you be visiting Toronto and want to ride with us? Bring your uni along. Contact Darren Bedford at 416-767-4742

Book Us and We'll Perform
See us in action in our photo album and invite us to your event or parade. Check out our Events Calendar.

Contact us at Toronto Unicyclists. We welcome possible Toronto rides, product reviews, suggestions, comments, and ideas.

For computer techies check out the About Site page.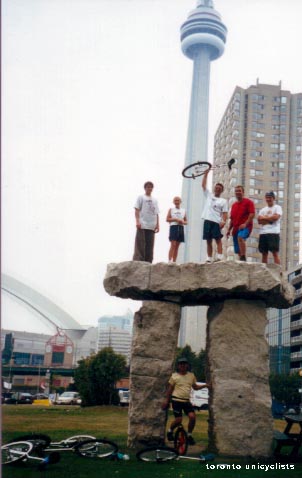 <!img src="images/darren/unijones-100p-20.jpg" width=362 height=281 alt="Drinking Jones Soda after a hard ride, Toronto, Canada">
<!width=30%> <!p>

Thursday Practice Sessions


NOTE: This Thursday March 6 2003 and next Thursday March 13 2003 practice is cancelled due to parent-teacher interviews and March Break at the school. See you March 20 2003

For the winter we're riding in a nice double gym at St. Mary school, 20 Portugal Square, Bathurst and King, one block North of King off the West side of Bathurst. Details 7:00pm start.

Reference Library
Check out our links page, which includes news, trivia, Uni rules, Uni purchasing online, juggling links, Internet purchasing guidelines and more. There's also our Toronto Unicyclists Yahoo Club for more interactivity.

Beginners
Advice on purchasing your first uni. What wheel size should I buy? What tire options do I have? What skills should I learn?

Uni-quipment
We can help you get a unicycle, look over and fix your equipment, and recommend stuff you can buy to make your ride more enjoyable. We also have product and vendor reviews of equipment we've bought and used.

<!a href="tnucmain.htm" title="2001 NUC Info on Location, Facilities, Accomodations, Places to see in Toronto"><!a href="http://www.unicycling.org/usa/"><!img src="images/nuc/usalogo-75.gif" width=75 height=75 align=right border=0>The 2001 National Unicycle Convention was held in Toronto, Ontario, Canada. Contact Darren Bedford for the video. Details